WHAT CAN WE DO FOR YOU
Check out how we give you that dream look
---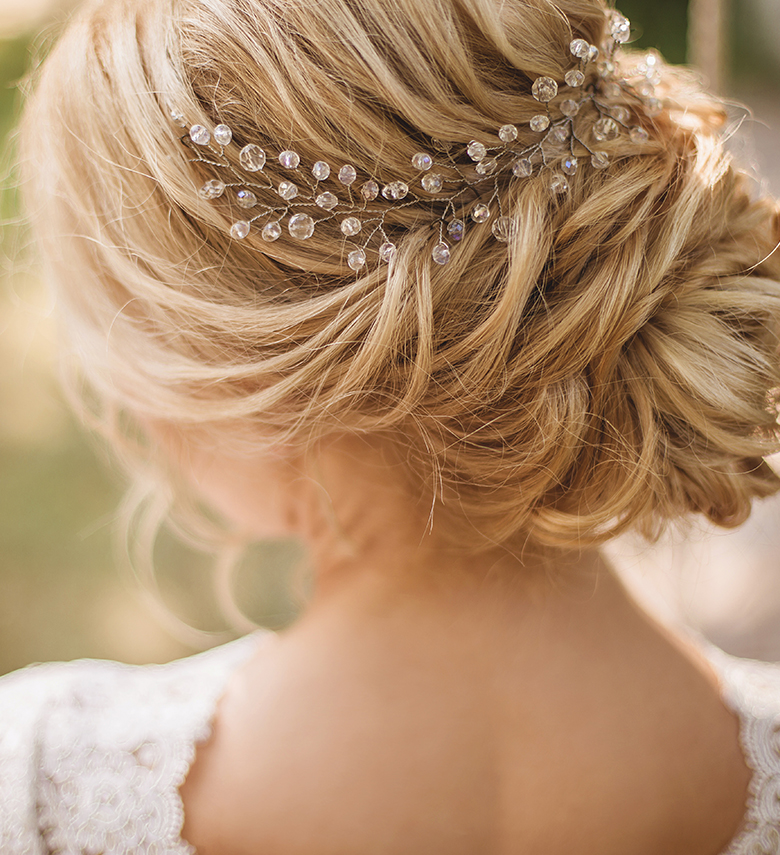 Hair Styling Only
---
Includes:
Trial run and day of hair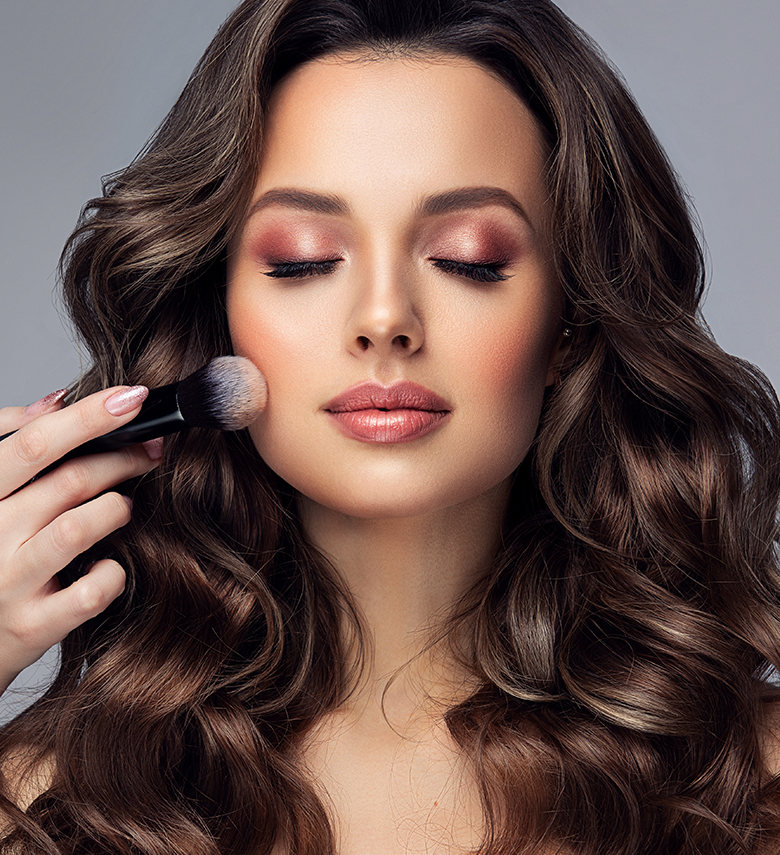 Makeup Only
---
Includes:
Trial run and day of makeup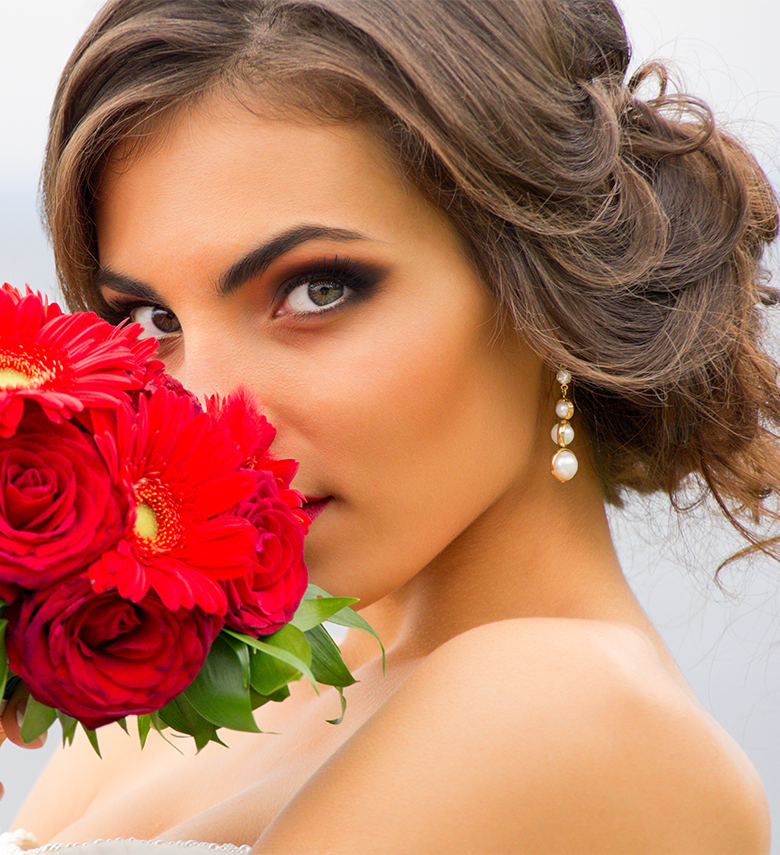 Hair & Makeup
---
Includes:
Trial run and day of hair and makeup
Bridesmaids, Mom, and other family members.
Bridesmaids, Mom, and other family members
Junior Bridesmaid Hair
---
For:
Girls 11 years old to 16 years old.
Junior Bridesmaid Makeup
---
For:
Girls 11 years old to 16 years old.
Flower Girl Hair & Makeup
---
Includes:
Hair, blush, shimmer eye shadow, and lipgloss. Made for girls 10 and under.
Travel fee is $1 per mile round trip. Anything over 50 miles one-way, please inquire about pricing.
Additional Assistant
---
Description:
For larger parties, we can bring some additoinal hands to help reduce your getting ready time!
Service Minimum
---
Description:
On location weddings require a 5 person minimum per service
FAQ
Got questions? We got answers!
---
How do I book The Beauty Market for my wedding?
First, inquire to make sure we have the date available. Second, we will email you an invoice to collect your deposit. Once we receive your deposit you will receive confirmation and are all set to go!!

**We book up very quickly and work on a first-come, first-serve basis
How much is the deposit and what will this cover?
The deposit is 50% of your Bridal Package. This deposit will secure your date and cover the cost of your trial. This deposit is fully refundable up until after your trial run.
Do I need to sign a contract?
We don't require you to sign a contract until the day of your trial.
What is included with my Bridal Package?
The Bridal Packages include the following:

- a trial run of hair, makeup or both
- wedding day hair, makeup or both
- false lashes, all day wear foundation, Clip-In extension application, etc (if desired)
- on-site travel, free of charger within a 15 mile radius of our studio
- high-quality hair and makeup kits, stocked with hand picked products and tools best for long lasting looks and wedding photography
- placement of bridal hair pieces and veils or a tutorial for MOH to secure veil
- extra time and attention allotted for the bride on wedding day

What is the best way to get in touch with The Beauty Market?
Email us
,
Text us
,
Call us
, or fill out the contact form
below
.
** We do our best to respond as quickly as possible. Please allow a little time for weekend responses as we are on location making people beautiful! If you call during business hours and reach our voicemail, leave us a message or send a text and we will call you back as soon as we are through with our clients!
How can I check your availability for my wedding date?
What if I don't know who wants hair and makeup done for my wedding?
We ask that you have a final count by the time of your trial. At your trial we set your day of timeline and won't be able to do that without a final count. If you don't have this exact number, don't freak out you can always email us after the fact. Please note that once your timeline is set, it is set. We book multiple appointments a day and would hate to have a scheduling conflict. With that being said your date is fully secured and our books won't open until after your trial!
Do you have a minimum number of services required?
Yes. We require a 5 person minimum per service. For example, if a makeup artist is traveling to your event you will need at least 5 people including yourself receiving a full face of makeup. If you are receiving hair and makeup you will need 4 others receiving hair and 4 others receiving makeup. Services on separate days aside from the wedding do not count toward the total number. Flower girls, Junior BM or eyes only also do not count toward the total.
Do you provide a trial run?
Yes! We include one trial with all of our Bridal Packages. We highly suggest a trial so that you can figure out your wedding day look, meet your stylist, and test out the hair and makeup.
What days are available to schedule trial runs?
We stay VERY busy with weddings over the weekends, so our weekend availability on the weekends is slim to none. Otherwise trials are typically booked Monday-Friday. Your trial can be booked on any of these days during normal business hours. If we can't find a day that works we will do our best to stay late or come in early to accommodate your scheduling needs!!
What happens at the trial run?
We will start you out with some paper work to make sure we have all of the info we need. Then we will have a full consultation and discuss your thoughts and ideas. Next, we will conduct the trial and make any adjustments you want. Once we finalize your look we will snap a couple of pictures to reference day of. Trials are the best way to get an idea of exactly what you want for wedding day. Sometimes, what you think you want is the exact opposite of what you actually want once you see it on yourself! This is the time to explore ideas of works best with your skin type, hair texture, hair length, your dress and any hair pieces you plan on wearing. We will guide you and customize a look for you based on everything above!!
How long is the Trial?
We set aside an hour per service. If you're receiving hair and makeup allow 2 hours for this appointment.
Will my hair and makeup trial be held on the same day?
YES! We do everything in our power to make this happen and we will find a day that your hair and makeup trial are back to back so you don't have to leave and then come back. We want you to be able to see the entire look put together!
Will the artist doing my trial run be the same artist on my wedding day?
Yes, Yes and YES!! We never understood why companies allow different artists to do your trial run and then send another artist day of. We 100% don't agree with this and the artist you have on your trial run will be the same artist day of. We understand this is one of the biggest days of your life and unless we are dead on the side of the road, we will make sure we are there!!
How do I prepare for my trial run?
We ask that you arrive with a fresh clean moisturized face and COMPLETELY dry clean hair. We only provide dry styling and don't want to waste some of your trial appointment drying your hair. Leading up to your trial gather some inspirational photos you like. Pinterest and Instagram are great places for inspiration. Also, bring your accessories if you have them. (Veil, hair pieces, extensions, etc)
Is there anything I should be aware of when looking for inspiration photos?
Always look for similar hair texture and your same hair color photos. As for makeup look for same eye shapes and eye color. If you are unsure of what your hair can and can't do, or what shape your eyes are, don't worry!! We are very honest with what you hair can achieve and what is going to look best on your skin. Note that you will see a ton of blonde models.
Who can I bring to my trial run?
Whoever you'd like! However, we do ask that you limit your guests to 1. We often have multiple trials/ appointments happening at once, and our studio can become crowded very quickly.
How far in advance do I schedule my trial?
We highly suggest 30-60 days prior to your wedding date.
Do you come to me?
For the trial, you will need to come to our studio. For wedding day, yes, we will travel to you. You also have the option of booking our studio if you choose.
Is there a travel fee?
The first 15 miles from of our studio (80021) is free of charge. Anything outside of that 15 mile radius we charge $1 per mile round trip.
How many people are you able to accommodate?
As many as you can throw at us! We have assistants that can be added to any event to help us accommodate however many people need services!!
How long does it take for each person?
This is a tough question because it varies depending on length/amount of hair, style chosen, amount of makeup desired, etc. However, as a general rule, hair takes approximately 30-35 min and makeup takes approximately 40-45 min. We reserve at least an hour and a half for the bride on wedding day.
I don't normally wear makeup. Is there a way to have my makeup done, but not look over the top?
Absolutely! We do not have just one standard makeup application. We can provide a natural look enhancing your best traits while still looking fabulous for pictures! We 100% don't want you to not feel like yourself!!
Do you provide false lashes?
Yes, EVERY package comes with false lashes if desired!
How do we prepare for wedding day?
We ask that everyone comes with CLEAN, DRY hair and a makeup-free, moisturized face.

THIS IS A BIG ONE.

People tend to show up with wet (or damp) hair and it can set us back on time. Please remind your bridal party and family to come with completely dry hair.
I've heard that dirty hair is best for curls and updos, is this true?
This is a question we get ALL OF THE TIME!! How we always answer it is.. you know your hair best, however its a lot easier to add texture and grit rather than remove oil. In our opinion this is an urban myth, no one wants an oily updo so do us a favor and come with clean blow dried hair!
Do you offer airbrush Makeup?
We are fully trained, capable, and have all of the tools for airbrush, but we personally don't prefer this application. In our PERSONAL opinion, it's dated and makeup has evolved so much since airbrush was popular in the early 2000s. It's no longer needed and is not the only thing that will make your makeup last!
Are clip-in extensions included?
For the bride, yes. For the bridal party/family, no. They are an additional $15 and we need to know ahead of time if anyone will be needing extensions applied so that we can allow extra time.
What do the stylists need on wedding day?
Plenty of table space, outlets, short chairs for hair, tall chairs/stools for makeup and natural light (if possible!). We are in hotels a lot of the time and these things aren't always there to provide. Don't stress about it, we've been in cabins with zero lighting we will figure it out and make any area work!!
Do I need to provide any curling irons or makeup day of?
We bring a full high-quality kit day of and you won't need to provide anything of that sort. HOWEVER... we do suggest that you and your ladies bring a lip color that you like. Our makeup artist will have all of theirs, but then you won't have anything for touch ups after pictures, eating and dancing. We will give you a list of our favorite brands or the name and shade of the one used at your trial if you would like.

Now let's talk allergies!!!!...

Some of us have super sensitive skin and may not be able to use the makeup we provide. If you or one of your bridesmaids have this issue, we can 100% have our makeup artist apply your makeup. Still receiving a professional makeup application without the breakouts/reactions!
How many stylists will be at my wedding?
The number of stylists we send will be based upon the amount of services booked in combination with the amount of time we have to get you ready. If you are unable to give us the time we require, then you will need to hire an additional artist ($100). A lot of venues don't let you in until a certain time, so be sure to check with them when considering your getting ready location!
What is my "must be ready" time?
That is the time that the stylists need to be completely finished with hair and makeup. Please take into consideration travel to the venue, getting into your dress (this takes a little longer than anticipated), photos (getting ready, robe photos, bridal party photos, first looks, etc), guests' arrival, and buffer time before the ceremony. We will help you sort through all of this at your trial!!
What if someone wants to add on day of?
This is a huge issue we run into all of the time. We would obviously love the additional business, however the time isn't always allotted for. Your timeline is based on the final count you provided to us. If we don't have another event to get to or if the time allows for additional services, we most definitely will accommodate this. This isn't a guarantee, so please provide accurate numbers ahead of time!!
One of my bridesmaids has super curly hair, does she come with it curly?
Curly hair is a tricky one, but we have mastered it!! If they want their curls enhanced have them arrive with their dry natural hair. If they want a smooth sleek look, please have them straighten it before we arrive.
I just want my hair down with some loose curls, is this still the same price?
Yes, what a lot of people don't realize is this is actually more work than updos sometimes. Keeping your hair down we have to curl your entire head. With updos, we have techniques that don't always require this.
Do you need pictures for what my bridesmaids want before the wedding?
No, this is not necessary. They will just need to bring inspirational photos of what they want day of. You can decide ahead of time if you want to give them free reigns to what they want, if you want them all the same, if you want them all down, or if you want them all up. This is a personal preference and varies wedding to wedding. We will accommodate whatever you decide!
When is my final balance due?
You will receive an invoice the week prior to your wedding. You can take care of it online or pay cash the day of.
What kind of payments do you accept?
Cash or any major credit card.
Can my bridal party make separate payments?
No. Everything needs to be paid in one full payment. Please collect payment from your bridal party prior to your wedding.
Is gratuity included?
No, gratuity is not included, but greatly appreciated! Feel free to tip your stylists at the trial and on wedding day. All stylists at your wedding will split the gratuity evenly because we work as a team!
What is your cancellation policy?
You have up to 14 days prior to your wedding to adjust the amount of services needed. After that 14 day mark you, the bride is responsible for any outstanding balance of that final count.
MORE QUESTIONS? WANT TO BOOK AN APPOINTMENT? CONTACT US

---
Write a
message
to us